Daily Deal: Olympus Tough TG620 Waterproof and Shockproof Digital Camera
You know what's awesome about being out on the water these days? The ability to capture it all on camera. The technology is insane these days from little video cameras like GoPro to the Sony Action Cam and countless digital waterproof cameras. It's a great time to be a surfer and a stand up paddler these days.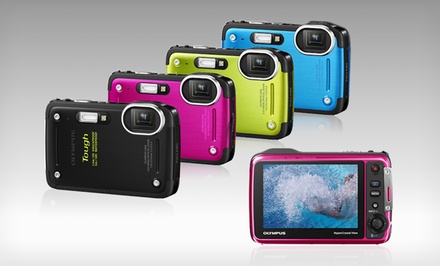 $129.99 for an Olympus Tough TG620 Digital Camera ($249.99 List Price). Multiple Colors. Free Shipping and Returns.
I found this deal today on Groupon for the TG620 Waterproof Digital camera. It is normally $249 but it's on sale for $129.99 via Groupon Goods. Not too bad. I don't have this specific camera, but it seems like a great deal that we should be letting fellow water sports folks like us know more about. Oh yeah, it's shockproof too. Boing!
We all have different types of cameras we use and one of our editors has this version of the Olympus that she really loves, so if you are looking for something a notch above try that one out
If you end up getting in on this deal for the Olympus Tough Tg620 Digital Camera from Groupon Goods, let us know how you like it. And be sure to tell us which color you like. I personally am digging the pink one. Aww shucks.
Or if you want to get us one of these sweet digital waterproof cameras for our birthday, we wouldn't be opposed. Our birthdays aren't for another 6 months or so, but we happily accept presents any time of the year.
Okay, hope you've enjoyed our rant. We scour the web for good stuff just like this and we hope you enjoy.
Peace, Love, and Good Waves.
-The Folks at SUP SURF BLOG
What about you? Do you own a waterproof camera?
Do you like it? Which one do you have? Post in the comments and let us know!