A Review on the Women's Athleta Breeze Short.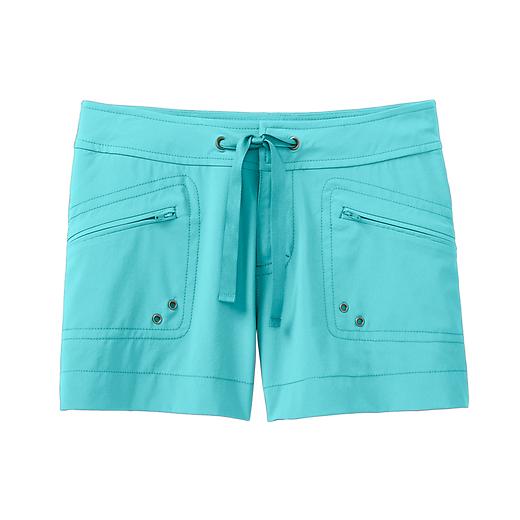 Summer has arrived and that means sun, warm water, and shedding our winter wetsuits  - yay! There's nothing I love more than paddling without a wetsuit on. You feel so free!
When I first got my SUP stand up paddleboard I realized I wasn't IN the water as much (more like 'on the water') so I didn't need a wetsuit. Instead I wore boardshorts and a rashguard. Well, boardshorts for surfing are different than boardshorts for SUP stand up paddleboarding. When I wear boardshorts for surfing, I want them to be longer so they protect my thighs from chafage after sitting on the board for too long. Yeah, it's not cute or feminine but it's way better than a huge red rash in between your legs! But I quickly realized that boardshorts for stand up paddleboarding are totally different. They can be cute and short because you aren't sitting with a board between your legs – you're standing on it. I immediately began my quest to find some cute boardshorts to wear for SUPping. My friend and fellow supper, Xtine, had these Athleta Breeze shorts and I wanted to give them a try. She bought them in every color so I figured they had to be good. I bought a pair online and gave them a whirl. They are really comfortable and good for bending and being active. They are made with a featherweight stretch material and also have quick and fast drying capabilities. I think they would be a great pair of shorts for any type of water use – swimming, boating, SUP. and surf (if you like a shorter short).
The one thing I didn't like about these shorts is the metal clasp. It doesn't lay flat with the drawstring tie waist so it ends up creating a small bulge at the waistline. But it doesn't bother me enough to do anything about it – but I did want to point it out for the sake of this review.
Athleta makes several different types of boardshorts for women and so far I have found the Breeze Short to be my favorite. It comes in several different colors too so you can always look stylish. They come in black, tan, turquoise (pictured above), earth green, red, and purple.
I'm glad I discovered these shorts just in time for summer so I can ditch my longer shorts when I go SUP paddling and put on a pair of short shorts and go stand up paddleboarding.
For more information on the Athleta Breeze Short, visit Athleta's website by clicking here.
Do you have a pair of boardshorts that you LOVE to paddleboard or surf in? Post in the comments and let us know!